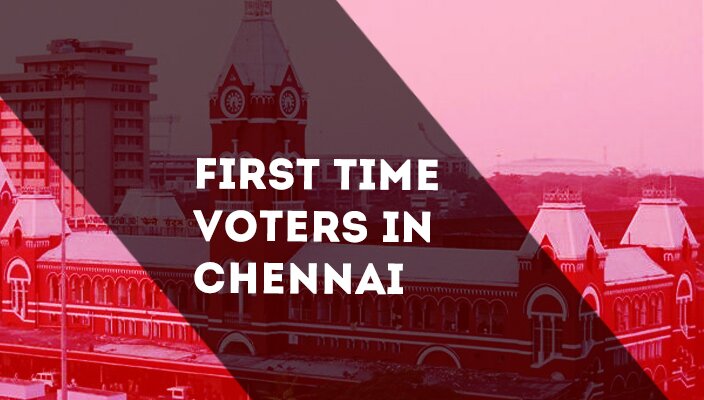 The general elections loom a month ahead and political campaigning is on in full swing. Parties are leaving no stone unturned in trying to woo the public to vote them to power. A major target for the parties are without a doubt, the first-time voters.
A report appearing in The Hindu in February had stated that data released by the Election Commission says that 2.3 crore young Indians in the 18-19 age bracket have enrolled to vote. This is out of a total electoral size of 81.5 crore.
With the enrolling process still on and with special enrolling camps that were conducted on 9th March, this number is bound to have only increased. Another report in The Hindu on 10th March stated that there was a good turnout at these enrolment camps.
This reporter decided to talk to a few students from Chennai to know more about the mindset of first-time voters in the city.
"You will find a lot of first-time voters in Chennai.", says Vishal Vasanth. A student of Sri Sivasubramaniya Nadar (SSN) college of engineering and a first-time voter himself. "Almost all people of my age whom I know have registered to vote."
Akshay Parmar, who studied B.B.A at Ramakrishna Mission Vivekananda college, says that he registered as a voter as he looks forward to electing the person who would govern the system. "I want to select a candidate who represents the poeple and who doesn't just take care of his own pocket."
Manasa rao, a student of M.O.P Vaishnav college for Women, echoes Parmar when asked why she registered as a voter. "I want to be part of the democratic process of electing the leader of the world's largest democracy.", Rao says.
While Rao looks forward to greater transparency and economic growth from the new government, Parmar hopes that they will be sensible when distributing freebies. "People lack basic amenities like clothing, healthcare, etc, and the parties offer freebies like TVs and Laptops.", says Parmar, elaborating on what he means.
Not all first-time voters seem to driven by wanting to be a part of democracy, though. Ashwin  Ragavender, a student of Rajalakshmi Engineering College, says that the registered to vote only because his father pushed him to do it. But Ragavender does feel that new voters will increase change in the system. "I look forward to lack of corruption and better defense strategies and measures from the new government.", Ragavender says.
Rao too believes that the young first-time voters will drive more change by affecting a number of key policies that the new government will work on. "Education, sports, and human resource development are three key areas that will be affected.", she says.
Parmar feels that the young voters will scrutinise politicians a lot more. "They aren't just interested in useless speeches and fake promises, but take note of all aspects.", says Parmar.
The economic situation of the country has been a mainstay in the run-up to the elections. On being asked whether the economy of the country will improve after the elections, these first-time voters were positive. "Given the nation wide feeling of anti- incumbency, it definitely seems to be headed towards change for the better.", says Rao. Ragavender too believes that the economy will rise with a new government taking charge.
Parmar takes a more guarded approach. "The economy does look like it will head in a good direction and towards development.", he says. "But these are qualitative assessments. We will know for sure only when the new government assumes power."
It is certain that the first-time voters in the electorate will influence the results of this election and given what a few of them have to say, we can hope for a positive influence.