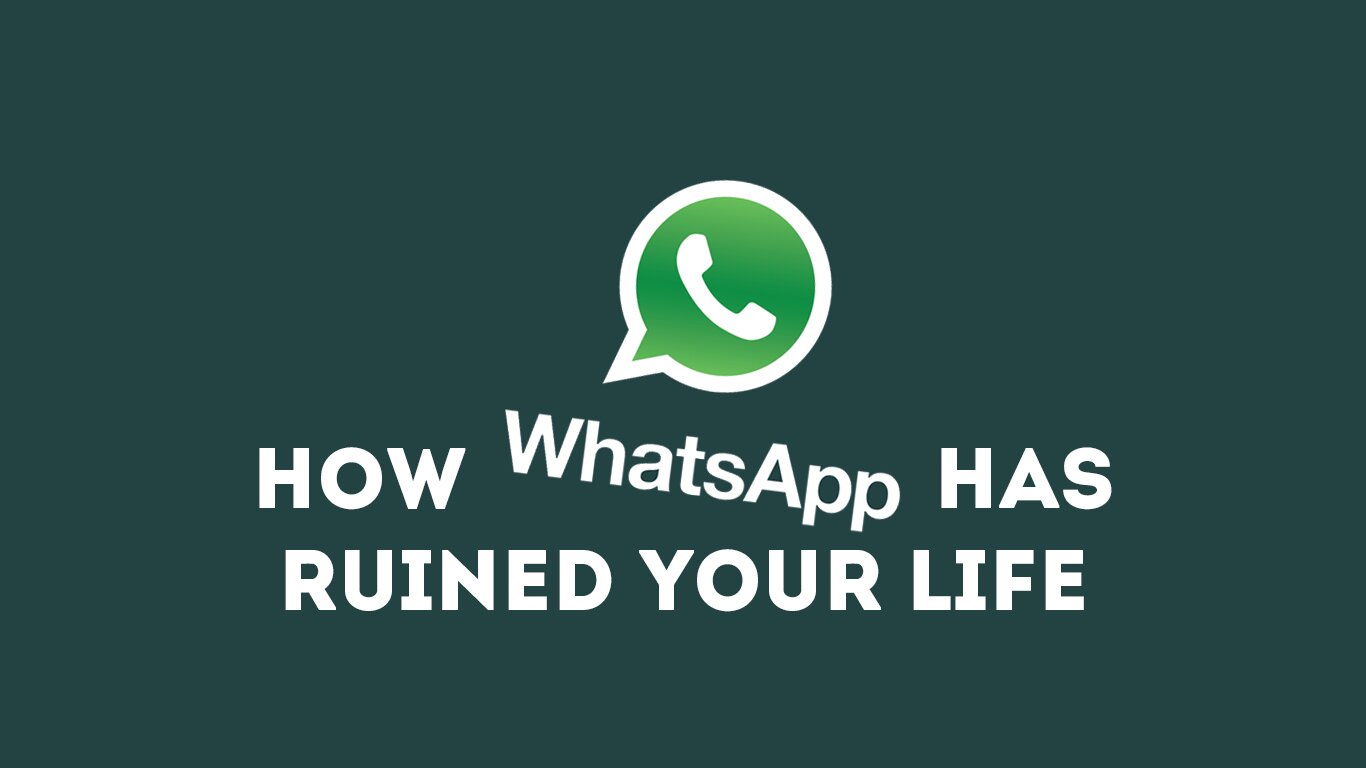 So does anyone around here remember ICQ? That hippie doodle flower was such a big part of my childhood. ICQ's interface might have been prehistoric compared to (the super annoying) MSN messenger that came soon after. Things went downhill after that and somewhat exasperating post that with – Yahoo, gTalk, AOL, BBM, YOLO, ACDC, MCBC.
And then came WhatsApp – an unassuming contender started by two ex-Yahoo employees, one of whom was rejected by both, Facebook and Twitter.
It changed instant messaging forever- for the better.
Or maybe not! I know several people who've had heated arguments that have lasted days, thanks to that bothersome 'last seen today at' thing. The dreaded double ticks have pierced through the last shred of privacy you can ever have.
Honestly, I really don't care how you wet your chaddis when Sachin played his final match. But no! Thanks to WhatsApp, if I ignore your message I'd have to hear about it till rapture.
Thank god WhatsApp doesn't give away the location of where you are at as of now – I know of many friendships and relationships that would end on that geo-location feature.
Oh! Are you worried about your parents causing a scene when you are not back home in time? Well, now thanks to whatsapp you can have that very argument with your parents – virtually – after 3 Old Monks, well past the adorable tipsy annoyance stage and almost close to Paris Hilton on bath salts internalising Miley Cyrus stage.
And then there are 'groups' … And you thought they died with MySpace?
Whatsapp groups are like high school relationships in dog years. And, in case you've never had a canine companion, since you are probably heartless or allergic to dogs (both being the same damn thing) dogs age ridiculously fast.
1 dog year is equal to A LOT of human years.
WhatsApp groups have different stages of a relationship – such as the initial romance, where everyone is SO INVESTED in the group, you would spend so much time answering the 500+ messages that you would turn into a sleep deprived zombie starring in Go Goa Gone.
Then resentment creeps in, as the dominant chatters are set. Enemy lines are drawn, the frequency of pings increases and you slowly realise that the honeymoon phase has now passed.
Cut to the third stage, where all you want to do is get away, leave and never come back (said Scar to Simba in the Lion King).
Maybe I'm being a cynical nincompoop and am for sure over-exaggerating the horrors of WhatsApp. WhatsApp has done plenty of good too –avoiding creepy strangers has never been easier. It has helped bring people closer without the need for physical contact, thereby reducing the number of fatalities such conversations could cause if they took place face to face, in the real world.
And where else could you quote Kafka, Nietzsche, KRK and have other pretentious status updates? BBM? Puh-Lease, this is not 1776 and remember, Smoke Signals > BBM.
The more I write, the more I realise now that Facebook has bought Whatsapp, they can actually rescind the awesome whatsappability on my phone (though they promise not to).
Please, Big Brother Zuckerberg – don't take away my WhatsApp.
Oh also, I'd kill to work with you. Until Larry Page or Sergei Brinn hire me to take over the world, then I'll dump your ass for the Google.
Cause Google is awesome.
Until then, keep WhatsApp the way it is and even WhatsApp me maybe?
Because Facebook Messenger sucks. But you know that.
We followed this up with how Facebook has ruined your life…