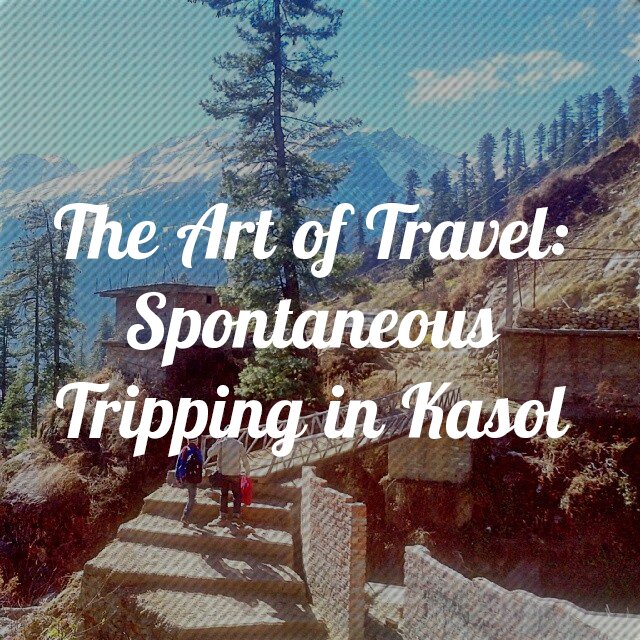 The art of travel is to deviate from one's plans. The plan was to finish work on Friday, and leave for Kasol early morning the next day. But with a bag that contained a spare T-shirt, a few books, pens, some ID, a deodorant and with a fickle mind, I spontaneously headed for Kasol on Friday night itself, right after work.
Little did I know what I was in for.
Itinerary
I left Delhi on Friday night at 7.30 pm from Kashmere Gate ISBT for Manali on HRTC (Himachal Road Transport Corporation). Got down at Bhuntar, caught a bus to Manikaran. Got down at Kasol. From Kasol you could go two ways. If you trek downwards, at the riverbanks, you will reach Chalan, which is the old version of Kasol. Or you can go upwards, to Tosh. Catch a cab (costs around 100 bucks), or you can opt to walk the 2 hour trek. Stay at Tosh for the night, probably at Pink Floyd Café; the view next morning will be breath taking. Head downwards, then take the same route back; catch a bus to Delhi by 6 pm from Bhuntar or Manali (just 10 kms away from Bhuntar).
Bad Takes
Visiting these places in winter is not everyone's cup of tea. It's not even my cup of tea, but then I was so close to the hills and the idea of a weekend escape just beckoned me. I didn't carry enough warm clothes, socks, or even (beat this) MONEY. Somehow, I managed to scrape through the trip, but that's what makes it so special. If you enjoy your teeth clattering in the bitter cold, the warmth of the sun on your face the next morning, a walk in the woods, with mountains all around you go. I didn't shop, I didn't buy weed and hash and I was trembling throughout the trip.
But I got stoned out of my mind, I met beautiful people and I saw the mesmerizing life of Tosh.
Good Takes
Now my social skills are practically null and void in the city, but when I'm alone, I transform into a chirpy, optimistic, deranged traveler, and this is what helps me the most. Bumping into Katy and Ruben was the highlight of this trip. I made two new friends, who were perpetually stoned and made sure that I was too. With them, I also met Marley, a local dealer, and Om Baba, the owner of the Pink Floyd café in Tosh. For literally six hours Marley, Katy, Ruben and I sat at Rainbow café in Chalan smoking (Marley's home grown) hash, talking and exchanging stories. Well actually, it was only Katy and Marley talking, while Ruben and I just listened. With local music bursting through the speakers, and the hash loosening up our heads, Marley talked about his delightful and scary experiences at length. In Tosh, Om Baba treated us with a bottle of whiskey, which helped us through the night (and the next morning!)
But the best thing about the trip was the beauty of the mountains. The snow capped rocks and the dark woods are something so serene, that one is compelled to stay there for days and months. I met a guy from Bangalore, who was residing in Tosh for the past two months. Another, an Israeli, had been there for almost a year now. They didn't know why they were there, but they liked it. It's mysterious how the nature works.
Boom Shiva
Someone at office told me that 'if you don't smoke up in Kasol then the trip is utterly pointless'. And that is true. Kasol is a haven for drug enthusiasts and 'mystics'. Hash is the most accessible herb. In the peak months, raves and chemicals are prominent. However, Om Baba informed me that there is a decline in the 'quality' of the raves. The arrival of cops and commercialization has destroyed the 'original party culture' of Kasol. Still, there are secret raves happening at Tosh throughout the year in the woods. The quality of substance also varies from Tosh to Kasol. One can find top notch hash and weed in Tosh.
Synopsis
'Jo nashe waala pyaar hai, usse tum kabhi nahi bhool sakte. Woh hi asli pyaar hai.'- Pahadi
My three days in Kasol and Tosh were serene. It was reckless that I didn't take warm clothes but once you reach Himachal, you forget everything. In a puff, I had dropped off all my troubles and decided to enjoy the trip to the fullest. I still keep in touch with Katy and Ruben, and we are planning another trek into the mountains soon next year. None of these things matter now; the hash, the cold, the bus ride. All that matters is the people, the laughter and the sun falling on the snow capped mountains.
__________________________________________________________
Images courtesy Yash Thakur