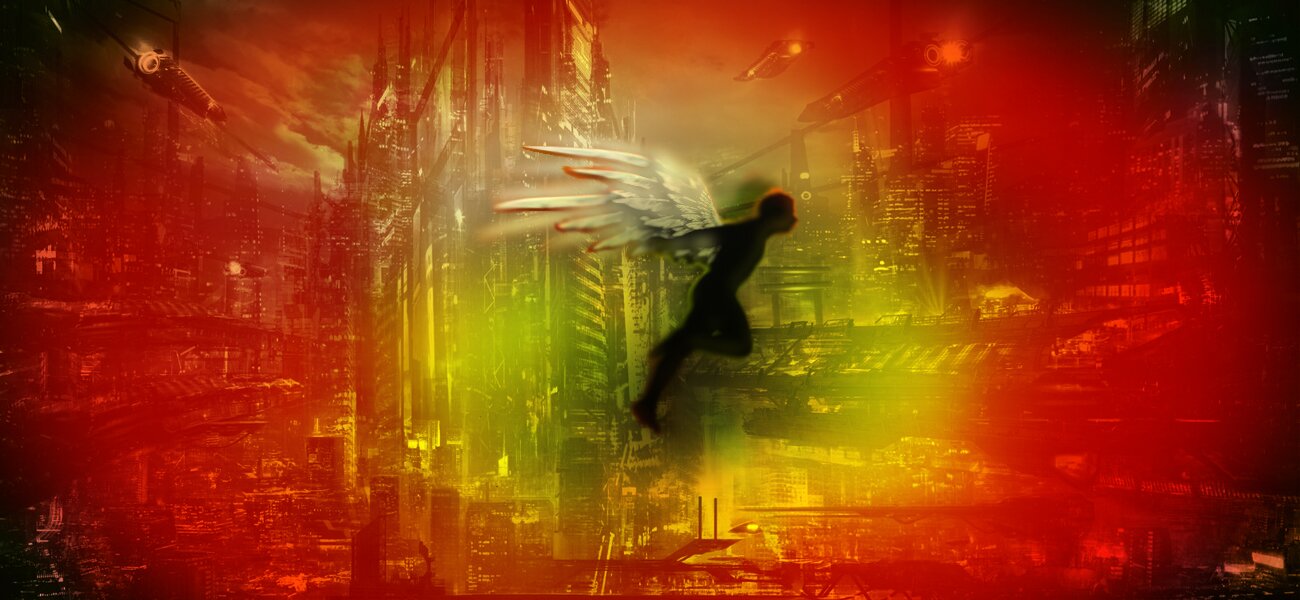 One dull winter morning, the kind of a morning where nothing of significance happens, where the clouds are a dull grey and the colours of the peacock refuse to excite the eye, Rama woke up to find out that he had grown a beautiful pair of wings overnight.
His initial reaction was one of horror. As muscles in his body that had never been used began to twitch and his eyes saw the outline of this transformation, he wanted to scream in horror, though he did not feel physical pain in any part of his body. His shoulders and arms seemed intact but did not seem the feeble twig like extensions they used to be. He closed his eyes and touched what he could touch of his left wing with his palm and realised that they were made of several folds, and had a much larger span than what he immediately perceived in his mind. Their outer covering was of fur and the inner layer of tight bound muscle.
"How did this happen?" thought Rama as he proceeded to find a mirror to examine himself. His entire body seemed to have transformed to accommodate the wings. He had become toned and lithe, and the cut of every muscle could be seen prominently against his skin. As he willed his wings to open a little and the folds undid themselves, Rama could not remember seeing a sight that was so beautiful. His wings were pearly white against his bluish dark skin tone. He was a picture of perfection, a word that had never been used near or about him since his birth.
"Could I still be asleep?"
It was a perfectly valid question. After all, no one should fall prey to hallucination. He opened the knife he would keep next to his bed and delicately poked himself. A small dot of blood formed at the spot. The pain that came with it, was the sweetest thing he had felt. It was proof that a good thing had happened on an ordinary day.
"It's your turn to milk the deer" brought his elation to the ground. His brother, Lakshman had already woken up and was screaming his set of morning orders from the inner den. Milking the family deer was the least of Rama's concerns, at this precise moment. How would Lakshman react when he saw the wings? Would he think of his transformation as a disease? And what use were these majestic wings, anyway? Why had he been gifted them? Questions such as these kept wafting through his head.
"Rama!!!!"
The voice intensified. Lakshman had always been the commanding one, though he was older by just a few minutes. The brothers were nothing like twins. Rama was bluish and looked underfed, while Lakshman was a handsome golden bronze oak in shade, handsome as a lion in heat. His legs were like mace irons and his voice sent the python scuttling away despite it being deaf and dumb.
Rama covered himself with his lijaas and walked down the twenty foot passage that connected both their rooms into the common room. The added weight of his wings, as a thoughtful reader might have thought, did not seem to bother him. He was walking with a grace no one who knew him would have ever thought he'd develop. As he opened the door to the common room, he realised Lakshman was nowhere to be seen. He was probably in the kitchen, slow roasting meat. Rama hoped it wasn't hare. Hare tasted fine, but it didn't agree with his stomach after a second helping. He would have to exercise control.
Rama cautiously opened the main door, and stepped outside. The sun was just starting to reveal herself, very shyly. The tips of the tallest trees looked scarlet. As he looked up at the sky and saw three hawks cruising through the air currents, he instinctively knew what he was supposed to do and flexed his wings out. The folds of muscle neatly packed to accommodate room for himself crashed outwards in a blaze and stood out in white perfection against his blue skin. He looked like he had been born to tame the skies.
Rama  flapped his wings. His heart gushed blood to every extension, it came to him like the creator had willed it. He began to see every air current like a different person, one calm, one angry, one particularly morbid, one energetic but short lived. As the pressure under his wings started building up and the weight he felt of his own body started reducing, Rama finally came to terms with his transformation. He could fly.
As Rama rose higher, the million doubts that had flocked his mind seemed so breeze away. The trees and man-caves around seemed so small. He could see thousands of miles around. The world was so big. Rama's eye caught the glance of a current that seemed friendly, so he decided to lock his wings to it. What a beautiful morning, Rama thought, as he levitated peacefully above his door.
"Explain yourself right now!" Lakshman's voice radiated through the cold winter morning. Rama felt the happiness ebb out of him. How was he to make his brother understand what he was going through. What if Lakshman decided to throw him out of home?
As Rama slowly lowered himself, he prostrated himself before his elder brother and truthfully recounted the events of the morning. Lakshman's face was inscrutable as he asked an occasional question. As Rama finished the story, Lakshman touched the left wing with his palm, almost with the same look he would have whenever they managed to pan gold at the river bed. He felt his brothers torso, and how hard it had become overnight. He even compared their shoulders, to see which seemed better developed.
The settlement healer was called, to take a look at whether the demons had bewitched Rama. Lakshman didn't want any bad spirits changing himself, no way at all. As the healer saw Rama fly, he too had nothing to report but bewilderment and awe at the beauty of Rama's flight. He passed the transformation as the good grace of forest well –wisher. After all, who would gift someone as simple as Rama something so beautiful? The deeper question – why?
Days passed, and news of Rama spread across caves and settlements all around. People would come by making excuses to meet Lakshman in the morning hours where Rama would practise flying. He had become so good. He would be swooping in circles and suddenly dive-bomb to skim the grass. He would levitate like the lazy stream for hours and accelerate like a falling flake of ice the next moment.
Rama's fame seem to have cast a spell of morbidity on Lakshman. He had become competitive in every small way. He would take small delight in proving himself to be superior in every small aspect, right from who ate more bee honey during breakfast, to who found the fresher catch, when the two went net fishing.
The brothers had felt a strange shift of power in the house. Of course, Lakshman was still utterly dominant. The right to obedience that he once commanded seemed subdued now. A small amount of tension seemed to emerge when Rama finished his hunts hours before Lakshman and always managed to prey on the choicest meat. Once Rama had walked into his bed early to find Lakshman trying to flap his arms in the same way Rama would ruffle his wings after a long flight.
On Lakshman's twenty-fifth day of birth, Rama bowed his head low and asked his brother what service he could render as the customary slave promise?  Lakshman was quiet for a very long time and asked Rama if he was strong. Rama said yes. He would do anything for his brother.
"Take me for a flight" his brother commanded.
Rama had never been happier. In the two years since his wings emerged, Lakshman had never asked even once how it felt to fly. Rama knew that Lakshman was far too proud to ask him how it felt, thought the curiosity of seeing Rama fly high up amongst the heavens with his trademark arrow like silhouette marked in a haze of blue against the sky had send darts of jealousy through Lakshman every single time.
Gripping his brother tight Rama soared higher than he ever had before. It was a wonderful moment. They were one, for the first time. Rama manoeuvred through giant Aprico trees and hooted at the scabby vultures that would haunt the skies at every alternate hour during the season end. He showed him the spot where the three sisters of Chihara's family would come to touch themselves.
When they were down, Lakshman started asking strange questions. Do you love me, Rama? He asked. More than my life brother, Rama replied. Would you do anything I asked?
Of course, brother, came Rama's reply.
"Sit down on this chair and don't move till I tell you."
Rama sat. He tucked his wings back into their folds. He wondered what Lakshman could possibly want from him? Maybe he was to go somewhere far and get him something.
As Lakshman came back, he was carrying a strange looking object with him. It looked like a saw, but it had a double blade and a hinge in between. It was almost as if…
"I want your wings"
Rama stared in horrified disbelief at his brother. Surely, he hadn't just heard what he had heard.
A surge of emotions thundered through Rama's head. For the first time in his life, he considered physically striking his brother. He felt utterly repulsed at the very face of his brother, the low life that he was proving himself to be. Family were meant to celebrate each other's triumphs. They were supposed to shelter each other's faults. He wondered how insecure his brother's mind was. And yet, Rama sat. He did not unlock his wings and soar away, to a land where family didn't matter. He didn't  pick his brother up and throw him from a point in the sky where his head would crack into small fragments if he was released. He didn't leave and consider never being seen ever again. Rama was a good man and as the observer has frequently observed, nothing nice ever happens to a man who is good.
 
It was a bound rule of the clan to not deny a person celebrating his day of birth a gift. Rama was bound by family law. He sat in mute silence as his brother smiled to himself and locked his wings in the hange blade, right at the joint. As he pressed deep, the blade went through the bone with a crunch, as blood oozed out. Rama screamed in pain, but the agony of sacrifice was worse, as he saw the remainder of his beautiful lying on the ground.
No sooner had Lakshman clipped the second wing, than Ram glowed white and returned to the human state he was in. The tight skin and muscle returned to flab. The cuts evened out. The gashes healed on their own and he became once again, what he was so famous for earlier- being absolutely average.
They were equals once more, but as a famous writer had once said – Lakshman was more equal than Rama.
The brothers continued to live together, but never spoke. They did not care about each other's existence. They just continued to live.
Rama would often wake up screaming, and touch his shoulder blades, the ghosts of wings once present bothering him with their touch. His phantom wings would wince and his mind would ache with the thought of opening them and souring through the night sky with the bats and other creatures of the night.
One winter morning, Lakshman woke up to find out that he had transformed overnight. He had grown a beautiful pair of jet black wings, powerful and strong. As he flew his maiden flight, the cold winter air filled his lungs up like a drug, and he too, wondered what Rama had wondered – How did this happen to me?
As a quiet Rama opened the door to see his brother in the sky, Lakshman looked down at his brother and for the first time in two years, opened conversation with a smile. "Look brother, I can fly" he said.
All Rama could remember was that fleeting last image of Lakshman soaring through the sky, becoming smaller and smaller till he disappeared.
He would never come back…