A comic book writer once told me, "When you are making a film, if you need an airport you have to find locations, decorate a set, get permissions. If I want an airport in my comic book, I just have to draw one."
The quote is exemplified in Odayan, an epic tale set against the backdrop of feudal Kerala, where a mysterious, masked stranger on a quest to piece together a mythic cursed blade, which was broken into twenty one pieces and each piece is under the care of a martial arts master. The tale is a mix of genres like the Western and martial arts stories, with the titular stranger who goes about wrecking lives and creating more individuals like him and the King setting a bounty on his head and sending out his best warriors to hunt Odayan down.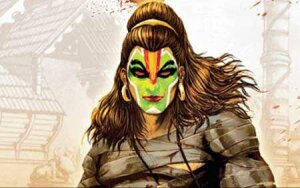 The official description is as follows:
"Set against the backdrop of feudal Kerala, the mysterious criminal and vigilante known simply as ODAYAN, slowly amasses wealth and power through subterfuge and brute force and builds himself a criminal empire that ultimately challenges the reign of the Zamorin himself"
It is deeply ingrained in the Malabar culture, it utilizes the martial and patriarchal society of Kerala and ancient ballads and characters that are as grey as the scale they are drawn in. Created by Suhas Chandra, who has an encyclopaedic knowledge about all things comic related, brings his passion for martial arts, history and storytelling into telling this dark and gritty epic tale, evoking comparison to the works of Alan Moore. He is a winner of the "Best Writer" award at Comic Con India Awards for this work. Deepak Sharma, also lends ink in his unique visual style.
Odayan, is a visual and visceral delight from start to finish that leaves you begging for more once you turn over the last page. It is a story that could only be told in the medium of a graphic novel, given the restriction and censorship of films and the limited scope of television without being too wordy like prose. An absolute must read.
The second issue was released at the Delhi Comic Con earlier this month.