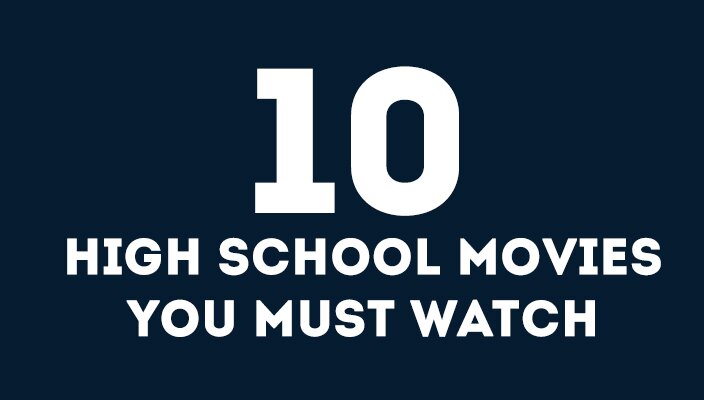 While doing some research for a future project, I ended up watching quite a few films in the American High School Movies genre which were focused primarily on films made post-1980s. Obsessively, watching film after film, I had to figure out a rating system for the films. So here it goes:
 1. Dazed and Confused
This film has featured on my previous list  and will feature on any 'Best of…' list I'll make. Made in 1992, it is sort of a throwback to the genre which deals with a day in the life of high school students in 1976 where the biggest worry for the summer is acquiring Aerosmith tickets and where the next party is at. It's a nostalgia trip.
2. Heathers
This one is quite unlike any other high school films you might come across. It was touted as the 'Anti-John Hughes high school movie.' What makes it so good is because it is a perversion of a genre you know too well. It deals with strong topics like 'teenage suicides', 'homosexuality', 'alienation' and 'cult of personality' in a uniquely bleak manner. Simply put "What if the good half of Full Metal Jacket was set in a regular high school?" Oh, and did I mention it stars Winona Ryder and Christian Slater?
 3. Risky Business
Rarely do you find a film in which the protagonist's problems have so little to do with the world, and yet the film is so engaging and entertaining.  Joel Goodson (Tom Cruise) is a suburban teenager who, as his name suggests, is a good boy. He has the house to himself for the weekend and on this friend's advice, calls a hooker and everything after that is fun and games – when his house literally turns into a house of adventures and in the mix of it all, he has to give an interview to get into his dream college. As Janet Maslin of the New York Times put it, it is "part satire, part would-be suburban poetry and part shameless showing off."
4. Can't Hardly Wait
Don't go by the reviews. Watch it for what it is. The writers wrote it on the premise that 'the best scenes in high school movies are party scenes, so why not have the entire film be one long party.' The film takes place in almost real-time at the graduation day party where everyone's wishes come true in a twisted manner. It is packed with interesting characters, funny dialogues, and a foreign exchange student whose English vocabulary is limited to "You want to touch my penis?" and "I am a sex machine."
5. Fast Times at Ridgemont High
Written by the guy who would later bring you films like Almost Famous and Jerry McGuire, this is one of those genre defining films, which made the high school genre what it is today. It explores teenage sexuality, frustrations of part-time jobs, and friendships, in a unique manner which has become the norm now. And Sean Penn plays a surfer dude, DUDE!!!
6. The Breakfast Club
Widely believed to be the greatest high school movie ever made – it stands true it that. What could be worse than having detention on Saturday? Being locked in for 8 hours with people you wouldn't even make eye-contact with if you passed them in the hallways. All the high school cliques are represented by Emilio Estevez, Anthony Michael Hall, Judd Nelson, Molly Ringwald (Queen of the 80's High School films), and Ally Sheedy. Where, through forced interaction, they discover they have more in common than they think. But will they still be friends come Monday?
7. Brick
Another one of those films that turns the genre on its head, or should I say it creates its own genre, High School Noir. Taking troupes from the Film Noir Detective genre and placing it in a high school scenario and being helmed by a talented cast headed by Joseph Gordan-Levitt, it's an immersive experience where no one is who they seem. Though I must admit this one requires multiple viewings to imbibe all its intricacies.
8. American Pie
Come on, you know how old you were when you watched this one secretly when you weren't supposed to, and then followed up by watching all the sequels (even the shitty Direct-to-Video ones.) This is the film that gave us Stiffler, Nadia and the MILF, and childhood would be less fun without this. All of you who have now gone to America for 'further studies' hoped life there would be like this film.
9. Superbad

Losing your virginity is important in all high school films, but doubly so if you are Evan and Seth, and only way that's going happen is if they manage to bring the booze to a party where they normally wouldn't be invited to, and their only hope is their weird friend whose fake ID says his name is McLovin' (sic). What ensues is a series of adventures that involve setting cop cars on fire, getting perioded on the pants, rifts in friendship while dealing with having way too much alcohol. …And, it is written by Seth Rogen and Evan Goldberg.
10. Die Welle (The Wave)
How far can you let an experiment go to prove a point? Most high school films have characters whose problems have little or nothing to do with the world; or in other cases, you have the white upper class teacher going to poor schools and uplifting students from their circumstances, which again are very culture specific. Based on real events that took place in a Palo Alto school in 1967, an anarchist teacher forced to teach a week long project on 'autocracy' decides to take a practical approach on teaching by setting up circumstances for a dictatorship in the class room based on points put forward by the students and things get out of hand. The class is a great microcosmic representation of society as a whole, as you see many parallels between what happens in the school with actual events happening in India as we speak.
Special Mention: Freak and Geeks
This one isn't a high school film, it is a TV show. However, it fits into the same vein as Dazed and Confused and Fast Times… A must watch.
This is in no way a comprehensive list, because I haven't gotten into some of the other films that I love or the ones which have moved me; and some others which are critically acclaimed films in the genre. So, also check out the films below:
Ferris Bulller's Day Off, Scent of a Woman, Dead Poets Society, 10 Things I Hate About You, Easy A, Rebel Without A Cause, Back to the Future, Pleasentville, Donnie Darko, Remember the Titans.