The original Chashme Buddoor is undoubtedly one of my favourite Indian films. Directed by Sai Paranjpe, that film is just as relevant  a film today as it was then or so I thought.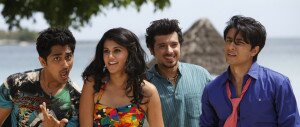 Mr. David Dhawan, the man behind masterpieces like Biwi No.1 and Hero No.1 then decided to remake a cult classic and maybe one of the better films of the 1980's (yes there were films like Himmatwala being made back then). He even made a statement to PTI saying and I quote, "After directing 40 films in my career till now, I want to make films which are more realistic. Our industry is going through the best phase and this young generation is extremely talented. This is the time for experimental cinema. I am also following the same trend and have decided not to make mindless comedies. I want to make meaningful and entertaining films."
But his film Chashme Baddoor, is an insult to the original film and to the word "remake"…wait, sorry that's Himmatwala…This film is loud and obnoxious like the rest of Mr. Dhawan's phenomenal body of work. It lacks the subtlety and sensibilities of the original and it is based in that exactly same Bollywood never-land which the original had broken away from.
Out goes the pre-liberalisation New Delhi of 1981, in comes the never-land of Bollywood which is very ideally set in Goa. There's annoying brand placement all over; where the actors are actually trying to sell each other the Mahindra scooters while on a date. I agree things have changed between then and now. But last I checked, I don't think we have become all that stupid or have we?
The innocence of the original is probably hard to imagine in the fast times of today but there was something about the original that is completely non-present in this so called remake. The original was a cinematic view of the life and times of the eighties and for a nineties-millennium era kid like me it's almost anthropological.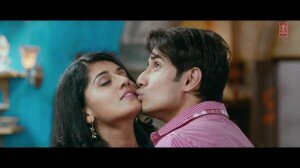 The story is pretty much the same but with Dhawan's added gems,  it makes absolutely no sense. The reason the kidnapping was relevant in the original was because the characters keep talking about the rising number of kidnappings in Delhi- there is a god damn build up. Everything has a reason! But no, Mr.Dhawan clearly thinks differently.
The charm of Lallan Mia's character beautifully portrayed by Saeed Jaffery is changed to a grotesquely dressed Rishi Kapoor playing an ex-sailor who now owns a cafe and has tons of fake tattoos all over him. Then there are a bunch of stereotypical characters played by Lillete Dubey and Anupam Kher- I'd rather not talk about them. Ali Zafar sleep walks through the whole movie; in the name of being restrained he is just a bag of reaction shots and cute-boy smiles. Siddharth and Divyendu are the better performers if the movie was to have any. They add the camaraderie and whatever is there of the humour that you may find in it if you watch the film. But then again you shouldn't. Taapsee Pannu is no good and you kind of get annoyed by her presence.
If the original had a subtle take on life in the Eighties, this one is brilliantly unreal and very tacky. I don't want to belong to this mindless generation if it actually exists. I mean how would you explain a guy who's barely still in college being asked by his mum to meet girls for marriage. And if they are really so broke where do they get the money to buy any of the things they do?
The original Chamko scene has been raped and David Dhawan should be sued for that. The problem with the film is that it is termed a remake when it actually is a spoof. Something on the lines of the Scary Movie franchise. It's a spoof on the art of filmmaking. And if it was actually marketed as that, I would probably buy it. Mostly I wouldn't, but I'd consider it. But this one did make me want to run to the theatre that's playing the re-release of the film. But then again, I am kind of scared if I am all wrong and our society is actually this shitty, because a guy outside the theatre was screaming how awesome this film was.
Alas, Stupid Movie 1 – Film Critic 0.