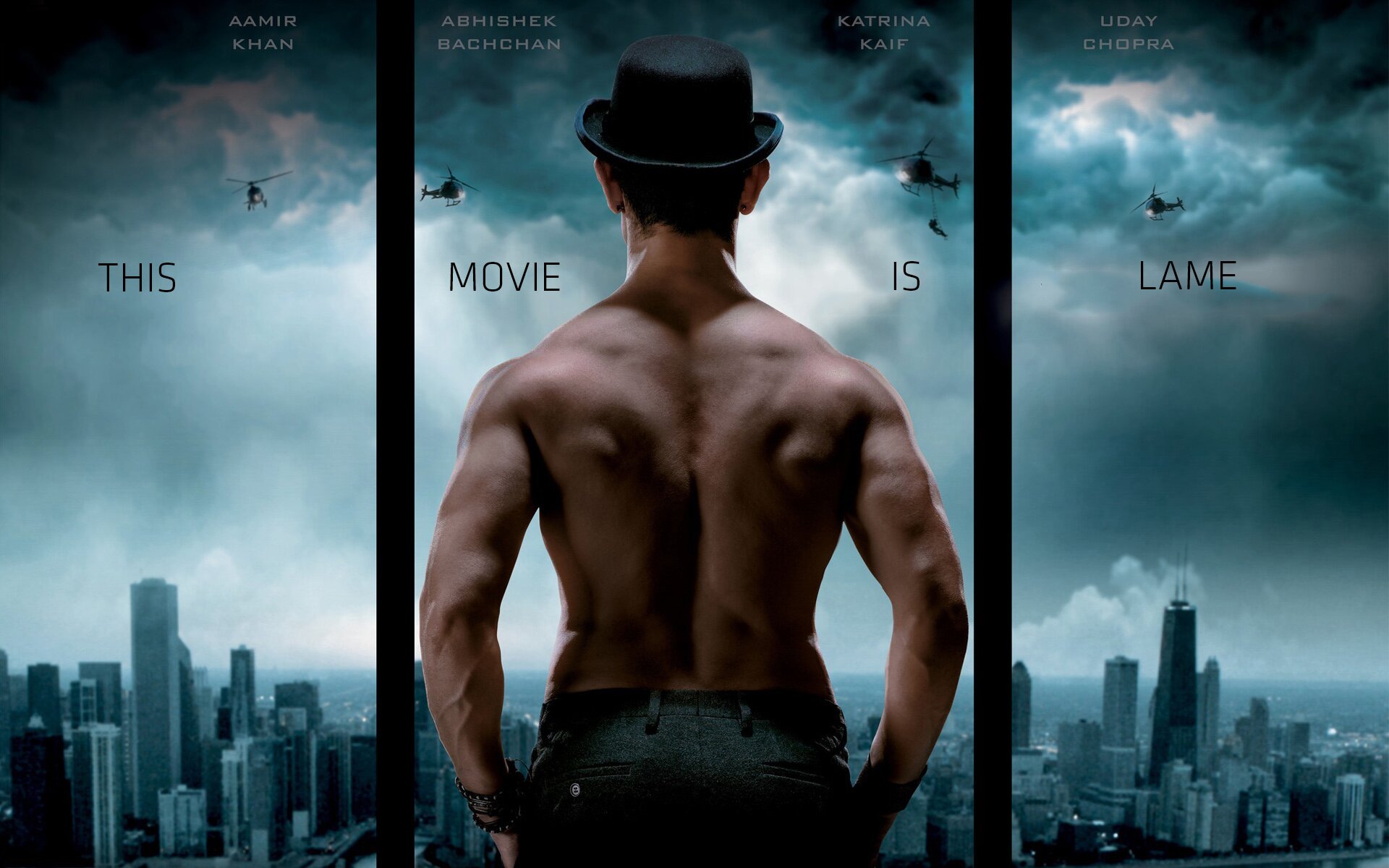 I wasn't exactly expecting a Citizen Kane here. But the film disappointed me so much that I didn't actually mind the annoying guy on his phone seated next to me. I have been eagerly waiting for this one. I had spent all of last night watching the previous films, they aren't masterpieces either but they are pretty okay for bollywood films of their time.
But this one was pure hogwash. It takes itself so very seriously and in such a lousy manner that you at times forget you are watching a movie from the Dhoom franchise.
The trailer promised you a slick action movie, but I guess they packed all the good looking action sequences into the trailer. Instead we have an overtly melodramatic plot where logic shoots itself in the knee even though it borrows copiously from many a film. This bastardised story starts with Jackie Shroff  in 1890 1990- the man's confused between being a magician and a circus owner. He owns a gigantic performance venue in Chicago that resembles the New York Supreme Court with the words "Great Indian Circus" chiselled in stone.  And he is in debt cause everyone goes to a circus  to see "girls in skirts" and his circus doesn't have this. Tch. (His son does make this happen later on)
So Jackie's character decides to shoot himself in the head because he can't pay off what he owes the bank. In effect turning his son into believing the fact that a bank wanting it's money is a bad thing. So the prodigal son decides to end the very bank. Obviously our discerning audience doesn't care about bad debt and parenthood. And duh, banks will forever be evil. The kid grows up to be Aamir Khan who for no reasons is running down a building aided by some really funny looking CGI. Visual perspective is fucked in the eye. And this isn't an isolated case. And then we are hit with a scene so grotesque that I wouldn't be surprised was found to be ghost directed by Rohit Shetty. It re-introduces Jai and Ali while numbing a few brain cells. And just because Aamir Khan, the thief, leaves messages in hindi (patriotic much)- our lads from Mumbai are called on to help out in Chicago because you know the Chicago police can't handle shit when it come to hindi spewing thieves and all. The rest of the story is well not worth talking about. It is essentially a bad mash up of The Prestige, Now you See Me and The Dark Knight. Bollywood movies have a very skewed perspective of the world. In the name of having "mass appeal" they end up being lobotomized. And there's this new trend in bollywood that I'd Like to term the "Shettyfication of Bollywod"; basically the laws of inertia go to hell and Newton goes on a mass killing rampage in heaven.
See ripping-off and copying or being inspired is a part of cultural progression. Things generally get bettered in the process but the reverse happens in India and that sucks. And to add to that, barring a few action scenes here and there- the action department sleeps through most of the movie. It's almost 2014, things have changed. Even a movie like Fast 6 fucks with the laws of physics but to do so in an unconvincing manner is a huge crime. Aamir's bike is basically a transformer that transforms into stupid things. I am sure it also turned into the batwing bike-wing but the lazy visual effects department shot that idea down. Some of the visual effects are so clean and believable and some of them are so blah that you know for sure that the people behind it were either lazy or were forced to work in a hurry- in a certain frame you'll find them resorting to re-using footage- like the audience bits inside the "Great Indian Circus" or the double teaming Aamir -multiplied without any change.
The editing is abrupt- the first half is pretty upbeat though illogical. The second half is so abrupt in bits and pieces that the climax seems out of place. Never do you get to watch a single robbery happen… instead you are forced to watch the many faces of Aamir Khan which can be a little hard to stay attuned to- and at time reminiscent of his now famous Satyamev Jayate stare.
Aamir is a brilliant actor and he is brilliant here but with such a lousy script even he fails. His character has been undoubtedly the most fleshed out negative character in any movie from the franchise and that's also the undoing- there is so much more that you want from it and all you get amounts to a stale banana. The fact that his character ends up looking like a hobbit in front of most of the other actors including Katrina actually added to the whole charismatic portrayal that Aamir puts out. Katrina's character flaunts it from the word go and I couldn't complain about it even if I wanted to . I mean Ms.Kaif is not really known for her acting abilities.
Also there is this personal blah moments when bollywood goes ahead and desecrates my  3rd favourite modernist sculpture in the world- the Cloudgate:
The funny thing is that Uday Chopra is the best thing about this film, his unquestioned management quota admission into every Dhoom movie has finally paid off . He strangely has all the funny lines and is probably the most entertaining bit in the film.
My Retirement Plans 1)move to Geneva, join CERN 2)Open wormhole to an alternate universe 3)Enter Universe and proclaim Godhood 4)Live as God — Uday Chopra (@udaychopra) December 15, 2013
What hasn't worked is the director's attempt at makingthe film Dhoom 3 could have easily been. Cheesy dialogues, unintentional overtly homoerotic overtones, melodramatic storylines, random songs that are designed to show off the insanely hot but completely irrelevant chiseled shape of the lead actors , ineffective action sequences… this sure was a bummer.
But who cares? Money is what matters and money this shall make. Kids, the banks (and the big corporations) win in the end.
DO NOT watch it in IMAX, it will ruin the terribly executed CGI shots even more than it should. Watching this on IMAX is like playing Contra on a gigantic flatscreen 2K TV.