At first Mere Dad ki Maruti sounds like a desi Dude Where's My Car? (coz you know, desi kids won't have their own cars until they are dads themselves). It is the third film from YRF's spin off banner Y Films which is trying to make films targeted towards a young urban audience. I earlier thought of the banner as an excuse to pick up Hollywood high school movie clichés and turn them into low-budget films for an audience that isn't very used to it. That fact remains true to some extent but there's a positive difference in this film.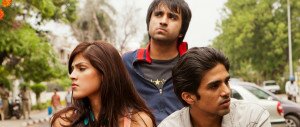 Firstly Ashima Chibber's Mere Dad ki Maruti shares very little with Dude,Where's my Car? Apart from the fact that it involves a missing car. The plot and the story of this film isn't the reason you would watch a film like this; you should watch this simply because it's funny. In a country dominated by really stupid comedies, here's a film that's slapstick and goofy but at the same time doesn't expect you to be a complete retard. The story is simple; it is set around a Punjabi wedding where our protagonist's sister is to be wed to a guy he refers to as daddu. The protagonist Sameer is brilliantly portrayed by Saqib Saleem and his best friend Gattu is played by Prabal Panjabi who brings in a lot of laughs with his superb comic timing. The 'Maruti' in question is a gift that is to be gifted to the groom but as you might expect our protagonist loses it when he takes out the lady that he wants to impress: Jazleen/Jasleen (portrayed by Rhea Chakroborthy).The over bearing and loud  Tej, our protagonists father is portrayed by Ram Kapoor who seems to be the perfect miserly Punjabi patriarch. And it's this wonderful casting that makes the film work; the way Tej talks to his son Sameer, the way Sameer interacts with Gattu is what makes it so believable. Ravi Kishan is also part of this ensemble but not star-studded cast, portraying a Pathan stolen-car dealer.
The movie has its moments; be it the elaborate plans that are hatched to stop Tej from finding about the stolen car, or every time Gattu is called garib because of a certain gag earlier in the film. The part where we learn that the elaborate dance routine the bride-to-be has been tirelessly practicing is actually rather suggestive is just fucking hilarious especially when her mother is seen as the only person supportive of this amongst a crowd of dumbstruck wedding guests.  
Not all of the jokes make sense but there's more than enough to make you happy throughout its 140 minute runtime. This movie is more like a sitcom han a movie and in parts the way it is edited reflects upon television style editing in bits and pieces. The music is full-on Punjabi complete with a Honey Singh song.
Ashima Chibber's directorial debut is wonderfully cast and anything but subtle. Very Punjabi and very likeable.  I also like the way the 'car' is used as an in your face but still restrained product placement opportunity for the Maruti Ertiga while still making fun of Maruti salesmen  and how the Alto is the car we identify with losers. I bet my mum would be hurt because she thinks her Alto is the best car in the world.