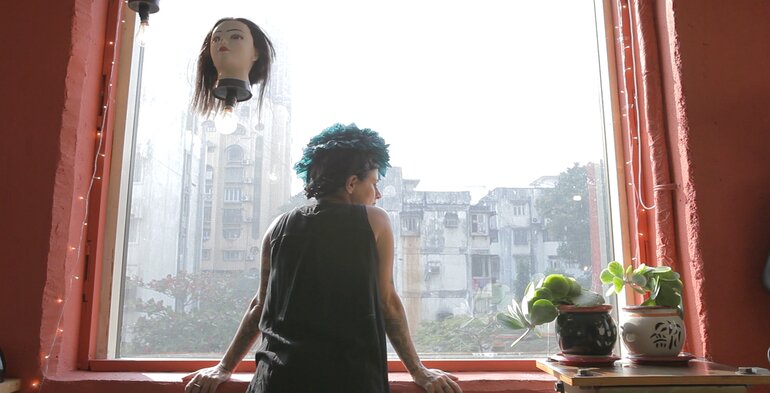 This film can be viewed on Fliqvine for Rs.100 : http://df5.in/FQWatchSWCD
The average urban Indian woman leads a multi-faceted life: family, education, marriage, husband, career, kids, in-laws, kitchens, cleaning, cubicles, etc. You hear about the stay-at-home mom who quit her job a few years ago to take care of her family or the mom who decided to stick with her job, suiting up every morning for the 9 O' clock meeting. But it doesn't stop with them. There are several varieties to Indian women, taking up different roles in society's prescription. Scattered Windows, Connected Doors (2013) is a documentary film that features the lives of eight women from different parts of India to tell the tale of the urban Indian woman. The documentary progresses with an array of shots that capture lights, colours and storytellers giving an account of their lives and how they live it.
The makers of this documentary – Roohi Dixit and Ziba Bhagwagar – give you a first-hand, in-depth portrayal of the way these women lead their lives, their jobs and their families. The film begins with a montage of shots that depict several scenes you would find aptly describing an Indian city. The iridescent bokehs of the night-life in cities, long shots traffic with vehicles leaving behind yellow light trails, a time-elapsed shot of the sky, places, people; the montage takes you by the hand and leads you into the film. Accompanying the montage is the voiceover of a woman talking about herself being a 'strange', unique flawed person, assuring the viewers that if there are 'strange' people like her, they are not alone. It slowly progresses to Shabnam Virmani – one of the eight – singing a Sufi song, playing an instrument. The beginning of the film breaks the ice with its viewers preparing them for the next seventy-four minutes, and thirty seconds.
The film goes beyond dog-tag introductions, making it more interactive by having the women introduce themselves as though in a conversation. In fact the documentary film maintains a very congenial narrative throughout. After getting on an unofficial first-name basis with the women, the film begins to follow an unscripted dialogue that they carry out. Coming from different states, professional backgrounds and age groups among many other variables, these women chart out that the course their lives have taken with respect to marriage, individuality, motherhood, fear and love among several other aspects of being a woman.
The women featured in this documentary are people with intriguing personalities who have a stronghold around their beliefs and womanhood. It might seem like the filmmakers arbitrarily handpicked these women, but it goes to show that it could not be without reason. They are distinguished professionals and excel at what they do. The eight women are Shabanam Virmani, a 'Kabir' enthusiast and an artist; Anusha Yadav, a thriving photographer and archivist; Shilo Shiv Suleman, a wandering traveller and a noted illustrator; Preeti Shenoy, a rabid blogger and published writer; Vidhya Pai, an LGBT activist and entrepreneur; Rekha Menon, Managing Director at Accenture, India; Swati Bhattacharya, a creative director and Sapna Bhavnani, a celebrity hair stylist and owner of a hair salon called Mad O What.
Through the course of the documentary, the women speak about their lives in the midst of the pre-occupied, noisy and ever-lively city space, and how they find an escape from its mundane, humdrum routines. The film encapsulates issues and realities of their lives, revealing their strengths and weakness, their aspirations and the following challenges. And, of course, what's a documentary about women without raising the issue of gender inequality. There are countless things that fall under the list of woes due to such issues. But, surprisingly, some of these women gave another side to this story. They recalled how their fathers supported their ambitions and encouraged them to be independent woman. Although, the dogmatic side of society did show up in Sapna's account of her experience growing up as a rebellious teenager. These women also emphasise on the importance of self-love and self-worth, coping with solitude and making challenging choices.
This film is one that not only tells the stories of these women, but sends out an empowering message. It shows that women are not exactly what the stereotypes depict and that they are no more entitled to stick to societal norms. Roohi Dixit and Ziba Bhagwagar delivered a brilliant documentary that was visually appealing, aesthetically composed and narratively smooth. By means of their production house – Zero House Rules and support from Accenture, the dynamic documenting duo wove this film together. The film was a product of two years of travelling and documenting the lives of women living in six different cities in India. It is worth the watch and a huge break from the boredom that is mainstream cinema.
This film can be viewed on Fliqvine for Rs.100 : http://df5.in/FQWatchSWCD