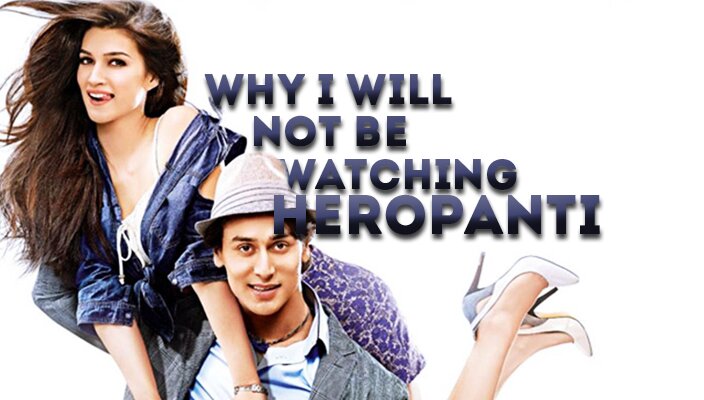 Sure. There exist more reasons for not watching Heropanti than the number of votes the AAP Congress got in the general elections and I do realize that if we sit down and decide to list them with pink markers and flowery borders and all of that then we would be here till Kim Kardashian marries for the twenty seventh time. The problem is that people will still flock to watch Heropanti as if Moses was guiding their way and buy the standard bucket of overpriced popcorn and Pepsi that they sell under the name of Coke to watch Tiger do what tigers usually do – maul people to death, proving that it's true that these animals never change their stripes.
And this is certainly a problem, mind you, one that triumphs over standard justifications such as 'It is a free country', 'I like tigers' and the classic 'But imma make out with my girlfriend'.
What's at stake is cinema itself and if we don't quit this mindless herding to such live-action purgatories, the long and winding road ahead is rather downhill.
Technology is a good thing because it has elevated us from the naïve nincompoops that our ancestors once were to informed and educated members of the society. Thanks to this, when we go to the movies now, it isn't any longer with clueless, drooling faces but with the smug smile of a man who has probably seen the trailer, the IMDb rating and has beyond a shred of doubt checked out the actresses' dimensions (?) in incognito mode.
That is to say, we have a fair bit of an idea about the movie when we go to watch it, including its genre, plot and what it is probably going to be like. Everyone who watched Xpose knew that Hitchcock could probably fart a better whodunit into existence. And while there will be elements that might catch you by surprise, largely, the movie is going to be just as excruciating as you expect it to be – much like a root canal.
Let's eschew from the 'But you can't judge a movie by its trailer so hahaha' hogwash. In India, you can, because the filmmakers here are so desperate that they will put everything substantial that the movie has to offer onto a silver platter and serve it to you with a toothy grin in the form of the trailer. It's a basic marketing strategy. You show people the best you have so that they come in and buy all the garbage along with it; which is all Nokia has done over the last three years.
So the element of sanguine surprise having been eliminated, what we're left with is the sordid acceptance of the fact that a movie that you think is going be shitty, is going to be shitty (sorry for sounding like Rhonda Byrne there). Despite this, if people throng to these films, it only creates incentive for cinema houses to continue making such odious movies. Cinema, being the nasty business that it is, will churn out what works best with the audiences. This hypothesis is testified by the fact that Dhoom 3, Krrish 3 and Chennai Express top the charts for the highest overall grossing Bollywood films in India – and none of these can be called 'good' by any objective standard of the word. While there are genuine people for who such films form the substance of their existence – and this post isn't for them because I'm sure they stopped reading at 'Kim Kardashian' – the tagging along of everyone is creating a glut in the cinema industry. It simply gives more reasons for filmmakers to make such movies because as long as the masses watch it, who gives a Spartan's eighth-ab about quality?
I miss going to the theatre and watching a movie that I've thoroughly enjoyed and would remember with fondness for more than three seconds after having walked out. All they're making these days are films like Main Tera Hero, Ragini MMS (Part 36D) and Yaariyan. The likes of Dhobi Ghat and The Lunchbox have turned into a spectacle as rare as the Halley's Comet. And while the flashbangs rake more than most African nations' GDP, while these meek creatures struggle to break-even.
Heropanti's trailer has everything the masses would probably want and Shubhra Gupta would definitely despise – one-liners cheesier than a Big Mac, swashbuckling action, guy showing body, girl showing body, guy-and-girl showing body together and as Lady Gaga once put it, bad romance. And if the movie turns out any different I'll bow my head in shame and eat my hat.
Heck, make it three.