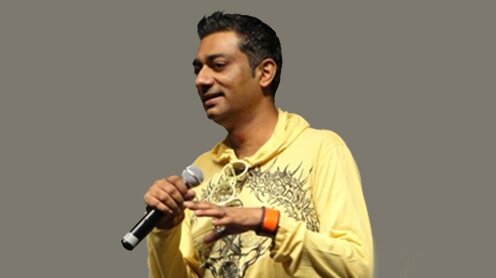 It's disgusting. It's disturbing. It's too radical. It's not meant for Indian audiences.
Those were the reactions I received from folks who managed to watch the movie, Gandu. However, for some reason, I loved it. It managed to do exactly what post-modernist films are supposed to do i.e. upset the mainstream films and its audiences.
This brings us to the man who has the potential to kick Indian filmmaking in the ass and push it towards becoming a more mature and expressive medium, Q (Qaushik Mukherjee). I've been following Q for a while now; it all started with the trailer of Gandu. One thing led to another and I ended up watching two documentaries made by him – Le Pocha and Love in India.  The former talks about the genesis and current scenario of Bangla alternative music whereas the latter deals with relationships, love, sexuality and everything that connects them to an Indian scenario. And it's probably in these films that I can trace back Q's fascination for showcasing reality.
When I ask him about what he thinks of documentaries, he snappily replies –
"I guess making documentaries is the truest form of film making that exists today. It's looking at things from a different perspective. Well, it's about time we move on and look at things from a new perspective and a new direction"
I ask him my second question. Are the so-called mainstream films dumbing down our audiences?
"Yes", he replies. "That's why I never watch these films. They are highly addictive and easily influence the viewers. I think they are very dangerous."
However I can say without a doubt that Q is more of a danger to the mainstream in our country. He defines the dreams of many like me. Still, in an industry filled with wannabes who are happy making their formula-based John Tucker Must Die rip-offs; I am part of a minority. However Q and his film-making process have given us hope. A guy equipped with a consumer-level DSLR can make a film that is in high demand for distribution in foreign market! This is forgetting the numerous film festivals the movie went to and the number of awards it won. Also, we are talking money here.
Again, conventional filmmakers do have a reason to worry. "They should worry", he says.  "And it will be a very different space in 10 years. Just look at the way the audience's tastes have changed. Expectations have been sustained. Suspension of disbelief is no longer an issue. And it's this change, where a low budget production is as good as a conventionally produced film. Even Hollywood filmmakers are looking to these new means to make movies. It's not that the conventional form will die, but there will be a paradigm shift in the way films are made."
You sure do need more than just balls to make something like Gandu in India, there's no denying that. And to make it in such a radical way breaking down the laws of filmmaking is just the stepping point of any post-modernist film. So what led Q to experiment?  "I guess I can experiment because I am self-taught", he says.  "I wouldn't have the problems a literate filmmaker would face. So there are certain things that I can do without thinking too much. What you call non-conventional is very conventional according to me. If you see this movie called The Man with the Movie Camera you will see that it has very similar premise of a man capturing reality that surrounded him."
 So was he pissed off when the screening of Gandu was suddenly cancelled at the Naya Film Festival?
He wasn't. He actually knew it would end up that way. He says, "I was apprehensive about Bombay anyway. And then the fact is we already had an underground screening in India. And when you are trying to have an 'overground' show in what is called the most advanced city in the country and it gets cancelled, you just realise you were right all along- Bombay is not what Bombay pretends to be.  So I wasn't all that surprised."
Q, along with his friend Spandan Banerjee have set up one of India's most innovative and expressive production houses; Overdose. Speaking of that, Q says, "It's less of a production house and more of an art collaborative. It's a platform for new and different ideas. I realized if I had to make the films that I want to make, I need to produce them myself. We are into the business of developing counter culture."
So what about all the sexuality in his work; not many people are appreciative of it. He candidly says, "I never set out to make films that people will watch. The development of counter culture is synonymous with the voice of protest. Living in what is largely a patriarchal society my voice of protest will largely be a sexual one. It started with the pitch of Love in India and I knew that this was the path to take. It started very organically but I later realised that this was a facet I needed to explore. An individual's identity is directly linked to his sexuality."
Q is known to work with a motley crew of people close to him of which he says, "They work without any strings attached. They work with me for the relationship I have with them. The team needs to completely trust me to be able to pull off whatever I intend to in the film. We don't have scripts we don't have anything written down hence in a situation like that it helps knowing the people you are working with. It's not a one film thing- it's a continuum."
So what did Q feel when he won the National Award for Love in India?
"I was surprised. I felt it was a little weird but then the statement of the jury kinda made sense. It's about making films that are socially relevant and how they define the way things are in our nation. I think the award gave me the certificate of being an Indian; a responsible politically and socially aware Indian."
Ask him about whether he thinks the Indian audiences are ready for him yet?
I don't give a fuck. I'll make the films I wanna make. They better be prepared.
_______________________________________________________________
All images belong to Overdose Productions