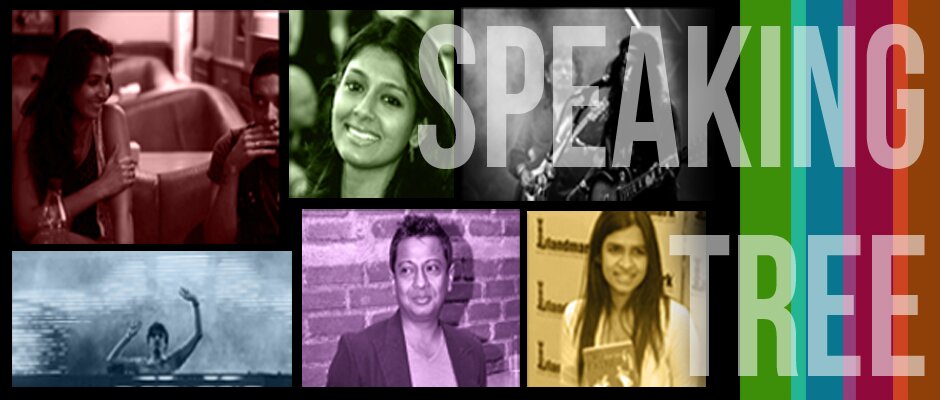 In the last two years, we have interviewed people primarily across the fields of music, movies and books. These are people who have inspired us and the ones around us. As enriching this experience has been, it has been equally enjoyable. We were completely taken by how much at ease most of these people were, when asked any question. Whether it be in person, on phone or through email, each one of these have taught us some of life's important lessons. They are all successful individuals in their own right and yet, not one has made us twenty-somethings feel even a little out of place.
Here's an interesting compilation of selected answers from these interviews. Our copy editors and closet superstars, Juhi Vibhakar and Gaurav Matai have done this with all their heart and we sincerely hope you enjoy this. Feel free to leave comments!
____________________________________________________________________
Here's a quick take on what the following musicians said when asked about their philosophy, where their music comes from and more:
Sahej Bakshi (Dualist Inquiry)
Philosophy: Uses the moniker 'Dualist Inquiry' because of his belief in the dualist philosophy that the "coexistence of extremes that balance each other out".
Where the music comes from: "Even though my music is instrumental, it comes to me in much the same way a song with lyrics would to a singer. I just don't hear lyrics when the song comes up in my head! I feel like the song can then become a soundtrack to your own thoughts, so in a very special way, every individual who listens to the song has a slightly different experience."
Pune and the NH7 Weekender: "After the magic of the Bacardi NH7 Weekender, I have to say that Pune is my current favourite.  I've never seen crowds go as crazy during a gig as I have in Pune."
(Read full interview here.)
Shaa'ir + Func (Monica Dogra and Randolph Correia)
Philosophy: Referring to the Natya Shastra, Shaa'ir stresses on mastering one art to increase your capacity of doing another. "It's not like you can only do one thing! All of your talents are interconnected."
Where the music comes from: Shaa'ir says, "My feelings. I feel too much. But often a lot of the music we write is inspired by Randolph's beat and the rhythm. When you try and match words to the rhythm, odd things start to come out. If you hear Randolph play the guitar, a lot of the rhythm structure is really complex. That's why we also have to play with the nation's best drummers. So there is two parts to it – my feelings and the rhythm."
Who they want to collaborate with: "We would love to do an album with Major Lazer, Thom Yorke and Jonny Greenwood [Radiohead], Massive Attack and Modeselektor from Germany. There are so many interesting producers now that are changing the face of music."
International bands perform less in India because of the shady organizers and shady middlemen. People here want to pocket too much money. It's just a business and more about gain than the music.
The NH7 Weekender: Shaa'ir says, "Festivals like NH7, they're not trying to mimic something done in the west and look at that festival! It was wonderful! The most amazing shows that 've staged have been at Indian venues with Indian audiences and my band is fully Indian."
(Read full interview here.)
Soulmate (Rudy Wallang and Tipriti Kharbangar)
Philosophy: "It's not about the money, man. If it's money you're after, you should probably go and become a part of Bollywood. For us, it's music first, and money second. Always."
About where their music comes from, they said it's all about the feel: "You can't bullshit the feel, man!"
Tribute concerts: Rudy says, "In all honesty, I'm going to go ahead and say that tribute concerts are a cry for money. This is a message I want to get out to all the organisers of any event.  Why spend so much money, and have the band spend so much time and effort on preparing someone else's songs rather than do the same and just make them play original music?"
(Read full interview here.)
Apart from these, we have also interviewed other artists such as Sidd Coutto, Ankur Tewari, Keshav Dhar, Uday Benegal, Thermal and a Quarter and more.
____________________________________________________________________
Here's a little from our movies section:
Onir
When asked why he changed his name from Anirban to Onir, the noted filmmaker said, "Actually, the first change was from Anirban Dhar to Anirban when I got rid of my last name in college. In school, I always wanted my mother's last name, but they insisted on putting my dad's, which I thought was extremely unfair. So I thought if I can't have my mom's last name, let me not have my dad's either. Later, when I came to Bombay, I changed it from Anirban to Onir because everyone would just mispronounce my name. It started with people calling me Anir Bhatt and Anir Bhan… everything but Anirban! Mostly, it was 'bhan' or 'bhatt' or 'bhai', all of which were equally appalling. Also, I have this strange history. My parents have named me numerous times. The first name that they had given me was atrocious. So, I decided to name myself once and for all."
(Read full interview here.)
Nandita Das
When asked about her feelings about mainstream Indian cinema, the acclaimed actor and director said, "Mainstream Hindi cinema has mostly played safe in an attempt to please a large number of people although in every era we have seen some bold films that have gone beyond their comfort zone and have told different stories irrespective of their box office performances. I am glad that quite a few young filmmakers are now stretching the boundaries and experimenting with both, form and content. Dibaker Banerjee's film, LSD is definitely one such example. Indian films are not just Bollywood films and there is a whole range of films, in fact more in regional languages that also constitute the Indian cinema gamut. Sadly the space for such films has always been small and seems to be further shrinking. Many of them get limited to festival circuit and sometimes DVD sales. But as an optimist, I hope that in pushing the boundaries audience taste will also expand."
(Read full interview here.)
Apart from these, we have interviewed Anup Kurian, Kainaz Motivala and Qaushiq Mukherjee. Do take a look!
____________________________________________________________________
And finally, here's something from our books section:
Jeffrey Archer
When asked if he still uses a pen to write, this celebrated writer said, "Yes. I do about 14 drafts for every book and I hand write each and every single word. My wife uses all these new devices. She presses buttons to make a fridge turn and recently bought an Apple. But I do not use any of these devices to write. I like the feeling of writing with a pen. And I get a different sort of satisfaction when I have finished a book and there are 120,000 words and I know I've written every one of them."
(Read full interview here.)
Judy Balan
When asked about the importance of travel in her life and how it has changed her, the noted writer and blogger said, "Travelling to another country makes your problems look smaller. It gives you perspective about life."
When asked about modern-day relationships and if people are maturing, she said, "I think they are regressing! I think that you cannot have compartmental relationships. I often liken this to Voldemort splitting his soul into seven pieces! People go for love to someone else, sex to someone else, and social situations to someone else…"
(Read full interview here.)
Ronald Malfi
When asked about his influences and inspirations among the literary world, American novelist Ronald Malfi said, "There is so much!  When I was a kid, I burned through every Stephen King book I could get my hands on, and while I don't read as much of King's stuff today as I once had, I think his writing was instrumental in giving my younger self the discipline and drive to sit down at that old typewriter at age eleven and write.  Ernest Hemingway's novels also resonate with me.  Studying Hemingway's prose, one cannot overlook his economy of word; of how momentous things are spoken of so simply.  It is beautiful writing."
(Read full interview here.)
Andy Riley
When asked what is tougher between screenwriting and illustration, the creator of The Bunny Suicides said, "Writing is harder. The longer a piece of writing is, the harder it gets. So, a sitcom or a feature film is much, much harder than doing lots of sketches of equivalent length. Most people have much more respect for the skill of a cartoonist. I always think it's because most people believe they could probably write much funnier stuff than what's on the TV; they just haven't got around to it yet."
(Read full interview here.)
Also, do take a look of the interviews we have done with Ashwin Sanghi, Jhangir Kerawala and Oswald Pereira.
____________________________________________________________________
Photographs of Soulmate and Shaa'ir+Func by Anurag Banerjee
Photograph of Dualist Inquiry by Navin Devnani-Torres
Photograph of Judy Balan by Jayanta Dasgupta