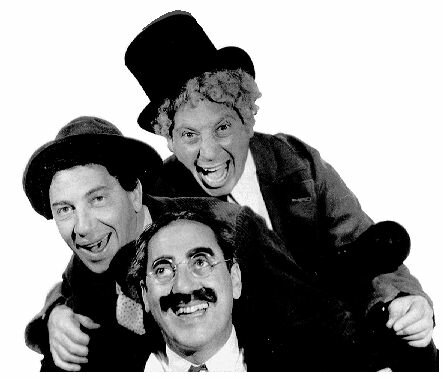 Groucho: You know, I think you are the most beautiful woman in the world.
Woman: Really?
Groucho, No, but I don't mind if lying gets me somewhere.
Yes – that surely rings a bell!
The Marx brothers were a team of 'sibling comedians' who were known for performing vaudeville and stage plays, along with acting on film and television. They became the brightest comedy stars of Broadway by managing to pull off three super hit plays using their spectacular deal-making skills. Their comedy routine spread like wild fire along the Broadway circuit. The brothers pioneered sardonic remarks with a distinctive chicken-walking lope, an over-the-top greasepaint moustache and eyebrows, and an omnipresent cigar. Quite unbelievable, right? But it's what made them infamous.
From a very young age, the boys had been encouraged to play musical instruments. Harpo (Adolph Marx) played the harp – his name being a sort of derivative of the instrument, and Chico (Leonard Marx) played the piano. Groucho (Julius Henry Marx), was praised highly for his singing abilities and by 1907, he was singing as 'The Three Nightingales' with Gummo (Milton Marx) and Mabel O' Donnell, author of the book, 'Round About'. However, out of the 13 Marx Brothers' films, Gummo did not appear in any while the fifth brother Zeppo, appeared in only five.
The story of how the Marx Brothers forayed into comedy is quite funny too. One evening as they were performing at the Opera House in Texas (sometime in 1912), they were interrupted by shouts from outside about a runaway mule. The audience hurried outside, returning to find Groucho enraged. Now Groucho, being the extremely cut- throat and witty guy that he was, ended up saying, "Nacogdoches (a city in Texas) is full of roaches '(referring to the audience as roaches). He also claimed that 'JackASS was the flower of TexASS' Surprisingly, instead of becoming angry the audience was left in splits. It was then that the family realized their potential as a comic troupe and ever since, there was no looking back. Groucho always had an edge above the rest and was framed as a master of wit. His quick delivery of witty one-liners and his distinctive appearance earned him a lot of admirers.
Parallel to the tremendous success of the Marx Brothers' stage shows, Hollywood was entering the era of the 'talkies'.  The Marx Brothers' signed their first film with Paramount and plunged into their celluloid career. Akin to their stage shows, their movies overflowed with comedy, wit and satire. Their most popular film 'Horse Feathers', (based on the American college system) won them the place on the cover of TIME magazine. Duck Soup (1933) — directed by Leo Mccarey— is the highest rated of the five Marx Brothers' films. The film featured a fictitious country called Fredonia which actually was the name of a village. When the heads of the village wrote to Paramount about the film "is hurting our town's image", Groucho retorted saying that the name of the village should then be changed since "it's hurting our picture".
To conclude, here's another example. The Warner Brothers, who made Casablanca decided to launch a pre–emptive strike on the Marx brothers for having made A Night in Casablanca by claiming ownership of the word 'Casablanca'. They also threatened to sue. Now you wouldn't really expect the Marx Brothers to respond to this through a series of corrosive, arrogant letters overflowing with bumper-sticker-type statements. But here's part what they said in their reply – "What about 'Warner Brothers'? Do you own that, too? You probably have the right to use the name 'Warner', but what about 'Brothers'? Professionally, we were 'Brothers' long before you were. And even before us there had been other brothers. Now Jack, how about you? Do you maintain that yours is an original name? Well it's not. It was used long before you were born. Offhand, I can think of two Jacks—Jack of Jack and the Beanstalk, and Jack the Ripper, who cut quite a figure in his day."
Now that's what I call a complete tongue-in-cheek moment!