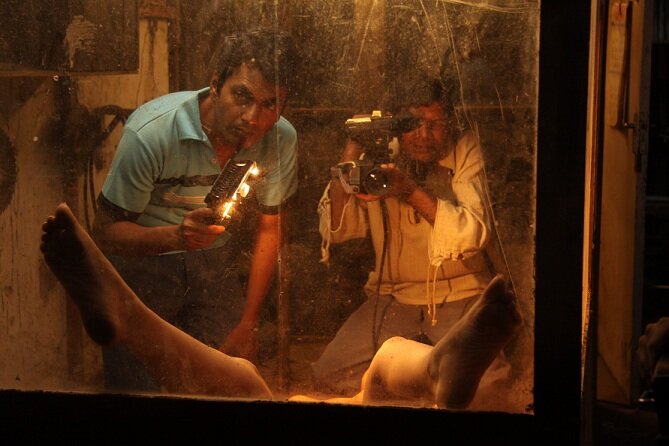 "Cannes was a mind blowing experience." – Anil George This Friday, one of the most anticipated indie films, Miss Lovely is set to release. The film is Nawazuddin's next film in line after The Lunchbox and the cast of Miss Lovely was in town to promote it. "Miss Lovely is a film about the C grade film industry in Bombay back in the 80s. It's about two brothers, Sonu, which is played by me, and Vicky, by Anil George. Maneka plays Nadia. She is an established C grade actress, Zeenat plays Poonam, a forgotten actress of the 80s, and Niharika is Pinky, a mysterious new girl. That's where the games begin." Nawazuddin Siddique says with a smile Directed by Ashim Ahluwalia, this debut feature follows the story of the Duggal brothers who produce shady sex-horror films in the mid-1980s. The plot explores the destructive relationship between younger sibling Sonu Duggal (Nawazuddin Siddiqui), and his elder brother, Vicky (Anil George).
Sonu finds himself drawn to a young woman named Pinky (Niharika Singh) eventually leading to his downfall. Says Anil George, "The film is very shocking. It isn't about an event or a story, it's about an industry, a forgotten, lost, dark side of it. Every next director says that their film is different; this isn't different, it is unseen.  That's what Miss Lovely shows." Zeena Bhatia, who plays Poonam, a pivotal character in the film adds, "This isn't a C grade film. It is a FILM about C grade films and the journey of various characters." When I asked them about what kind of preparation went in for the film, they agreed that, "We didn't meet; we observed the C Grade industry actors. 70% of the job was done by the art direction, lighting. We shot on real locations." Niharika said with a laugh, "Ashim now has a PhD in C grade films!" Except for Nawaz, for all of them, Miss Lovely is their big ticket to success. Anil George was a theatre artist earlier, while Niharika was a model. Maneka says, "I belong to TV. It's a different thing altogether. I had to google almost all of them, even the director!" The film has competed in the Un Certain Regard section at the 2012 Cannes Film Festival. Since then it has screened at numerous film festivals including the Toronto International Film Festival and the Mumbai International Film Festival. When asked about the reception at Cannes, Anil said, "Cannes was a mind blowing experience. They are known to promote films like ours; we get a platform. Indian audiences are not used to such films and they will never watch them until they know that we have gained recognition outside. We hope to churn out more films like these. Make serious, honest films. Be it experimental, art house, whichever." Changing times are imminent. The sudden culture jerk with the arrival of the 'indie' culture in India in films and music is evident clearly. Mature, urban class audience is slowly awakening and accepting films of Kashyap, Dibakar and Motwane.
Zeenat feels that even the perception of women in Bollywood is changing. "Take the case of women in Bollywood films. Most of the times, they are just singing and dancing and playing supporting roles; mother, sister, wife, girlfriend. But now slowly we have films that are women centric and star casts lead by women." Maneka adds with finality that one person is solely responsible for this, who is now a messiah for the Indian indie film industry. "Anurag Kashyap has made this work for us easier; there is more scope for independent cinema than there was 2 years back and he has done it single handedly, even after all his struggles." Miss Lovely is out in theatres this Friday.