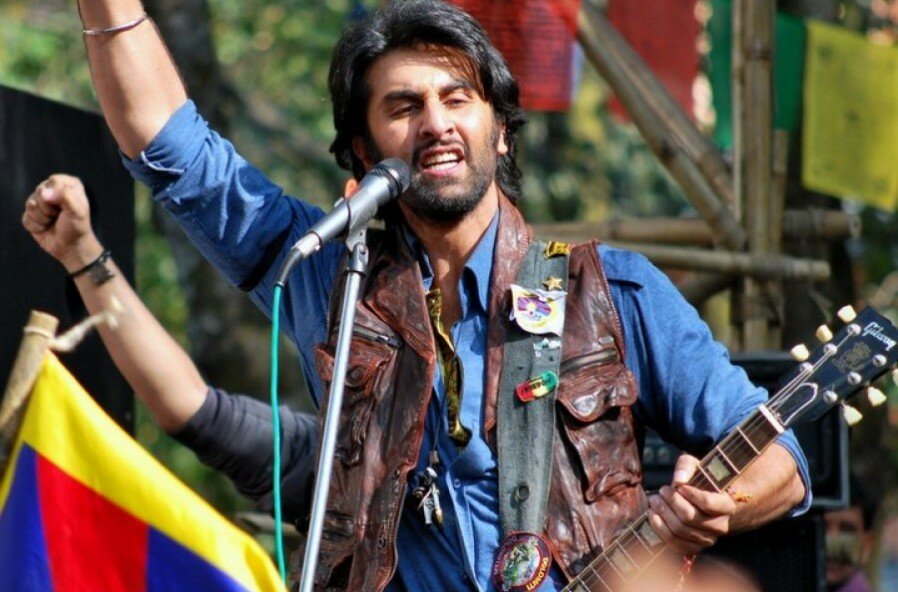 Every time a movie like Rockstar hits the screen, I am scared. The promotional packaging promises so much that you end up asking yourself, "Will it deliver?" and  "Will it live up to (my) expectations?"
Director Imtiaz Ali has managed to make commercial but decent movies like Jab We Met and Love Aaj Kal. So, is Rockstar too made in the same mould?
Truthfully, it is and it challenges a lot of things in Hindi cinema. Agreed that the portrayal of an Indian (Rock?) musician is sort of flawed. But Rockstar is a brave attempt at challenging the film industry in itself. In India, the audiences (and certainly some 'movie critics') are not all that used to a non-linear narrative – we as a mass love our Dabangg and Singham (I don't even want to mention Ra.One and Bodyguard!). Now this movie with its collection of brilliantly-arranged flashbacks laced with an unquestionably genius soundtrack takes the first step at showing the finger to films like the ones mentioned above. Money is not all that matters; the art that is film making does matter too.
The story of a wannabe Jim Morrison who has a rather normal life is in itself a paradox – as one of the characters says that to be like Morrison, you need to 'feel the pain' he experienced.  The film introduces this paradox rather well; turning it into a humorous bit initially showing the immaturity of the simple and easy going Janardan to the actual pain that he experiences when he turns into Jordan- the successful angst-ridden police-and-journalist-beating musician. The love story weaved amongst all of this is beautiful albeit with a lot of Bollywood clichés. Imtiaz Ali does what he can portray best – showing confused lovers who love each other but aren't sure where their relationship is heading.
The movie has some brilliant performances in Piyush Mishra who is flawless as the record label head and Ranbir Kapoor in his best performance till date. On the flip side, there is Nargis Fakhri who looks like a million bucks but she can't act one bit. She makes the most intense situations look unrealistic. By the way, what was that chick who played the journo doing in the movie?
Moving on, a lot of people have questioned how this movie leaves a lot of unanswered questions. However, those aren't script holes but are in fact left open-ended simply because certain things are understood without being explicitly shown. The movie breaks the time and space continuum but matches events so well that even though it might appear abrupt, it flows. It's also got a bit of magical realism touch to it- a very brave attempt.
Technically, the movie is superb. We all love A. R. Rahman's Sufi touch to the music. It is an amazing aural experience.  Be it Sadda Haq or Jo Bhi Main, Mohit Chauhan's voice fits perfectly into the musical nirvana.
The other genius in the movie is the visuals that are onscreen. Anil Mehta, the cinematographer of the movie takes us to places that mostly don't look as pleasing as they do on screen. Also, hats off to Editor Aarti Bajaj for stringing together this slick and easily absorbable narrative.
Overall, I think Rockstar is a well-made film. It is a brave step for Indian commercial cinema and kudos to that.