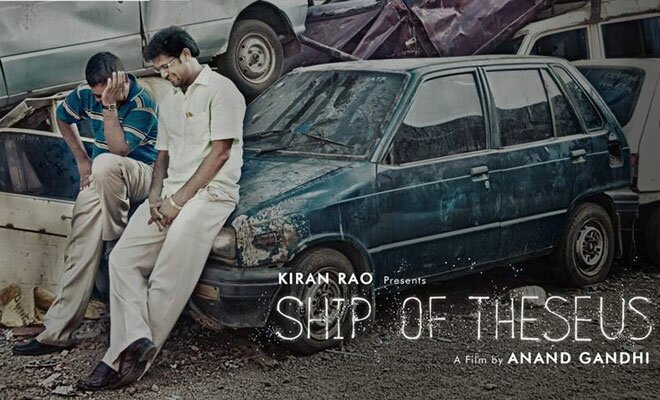 A film that came out of nowhere has now taken the world of cinema by storm. It has won multiple accolades and applause since its premiere at the 2012 Toronto International Film Festival. Legendary directors like Shyam Benegal and Anurag Kashyap claim that this film will change the face of Indian cinema. One of the most engaging films of our time, Ship of Theseus is a question to the human soul. What is right or wrong? How do you measure happiness or sadness?
Directed by Anand Gandhi, Ship of Theseus is based on the profound existentialist questions that man has tried to answer through logic, reason and even religion. The film revolves around 3 characters, namely Aliya (a blind photographer), Maitreya (a dying intellectual monk) and Navin (a kidney recipient stockbroker) whose lives revolve in Mumbai. Each character is broken in the form of body and soul and each symbolize the concepts of realization, death and morality in some way or the other. A large part of the film deals with introspection and travel. At one point of the film, Navin poses a question similar to the Ship of Theseus paradox, which leads to an interesting climax intertwining the 3 stories.
Adia Al Khashef flawlessly portrays a blind photographer, while Sohum Shah blends in the role of a shy and confused stockbroker at ease. But the most outstanding acting is performed by Neeraj Kabi as a liberal and intellectual monk. Extremely weak, yet a strong mind, the effort of Kabi as an actor reminds us of a Day Lewis or a Christan Bale from the west. The supporting cast is equally amazing and they bring a tinge of humor to the table in an otherwise deeply moving film.
From a technical point of view, the cinematography too communicates the intensity of the scenes especially where Aliya travels to the mountains with her newly acquired eyesight, when Maitreya is writhing in pain in his bed. DOP Pankaj Kumar infuses light and picturesque shots to portray the beauty of Mumbai in a refreshing way. The aesthetic appeal of the film is rarely seen otherwise in independent Indian cinema. The music further enhances this experience with an orchestra-like sound.
Fusing science with philosophy, Anand Gandhi with his debut feature film has shown us what very few Indian directors have: Soul. With a powerful story, art house shots and some groundbreaking performances, Gandhi and his Ship will sail a long way…perhaps to the Oscars too!
5/5 'moos' – This film has awed me not with the use of songs, fight sequences, and tear jerking moments; but with its intense logic and thought.