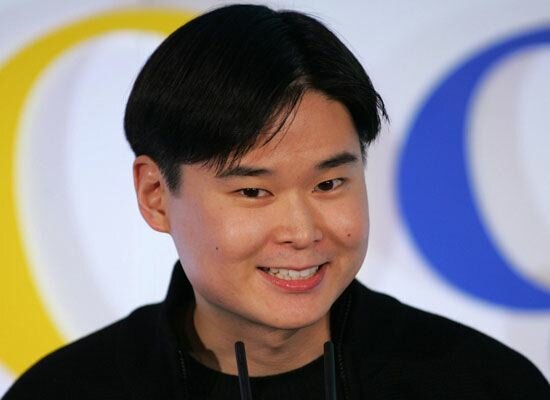 Ever found yourself scribbling on the edges of your notebook? Remember the feeling of "constructing" wild motifs and Van Gogh-esque patterns and doodles, as your Trigonometry professor drones on about the intergalactic space aliens who will eat your brains if you don't figure the difference between the sine and cosine?  I am sure you do. But have you ever thought that someone could turn doodling into a career?
Well, meet Dennis Hwang.
He is perhaps the most important graphic designer of our time. His work is seen by over 300 million people on an average day, thus making him the single most-viewed artist of all time. If you haven't guessed it already, he is the man behind the Google Doodles.
Besides being the biggest internet titan that Google is, it has established itself as one of the coolest companies to work for also. Founders Sergey Brin and Larry Page have achieved cult status with their minimalistic design of 'Google' logo, website and their mantra – 'Don't be Evil'. Informal and comical from its inception, the doodles are now reflective of Google's corporate identity.
The very first doodle was created by the founders themselves, back in August 1998, when Google was still in its beta testing days.  Larry and Sergey put a 'burning man' symbol to tell their early users that the site was going to left unattended while the founders went to attend the legendary Burning Man Festival. Although it was meant to be a fun, out-of-office message, the doodles created a phenomenon of their own. The 'burning man' doodle got so popular that the founders created another one for Thanksgiving. Read any kind of a marketing textbook and the first thing they will say is never to fiddle with corporate branding. The doodles were seen as controversial at the beginning, and many thought they would jeopardize Google's branding.
After a string of freelance designers who doodled for Google, Dennis Hwang became its chief doodler in 2000. Hwang, who was an intern at the time, was asked to create a doodle for Bastille Day, after Sergey and Larry found out that he had a double major in fine arts and computer science from Stanford University.  After his very first doodling gig, he was asked to be their official chief doodler. Twelve years later, Google now has its very own staff of doodlers, designers, artists and other creative sorts who sit together about four times annually and come up with doodles for the upcoming year.
Below: Meet the Doodlers
"Holding up my mockups and then holding my breath while Larry and Sergey do their 'thumbs-up, thumbs-down' emperor thing is never boring," Hwang writes on the Google blog. "I love the fact that my little niche within this company turned out to be something so cool and creative and, well, Google-y." What Dennis means by when he says 'Google-y' is the geekish work culture of the company. Google has paid homage to scientific discoveries such as the launch of the Large Hadron Collider, the 25th anniversary of the Bucky Ball and even the Venus Transit, in which Venus casts a shadow on the Sun every 122 years.
When he is not busy doodling, the Mr. Hwang is an international webmaster, handling the international site content. According to Hwang, the amount of work he does for the doodles is not even 20% of his entire work portfolio in Google, but this 34-year old body of work manages to impress hundreds of millions of people each week. On an average, Dennis creates about 50 doodles a year.
Below: Hwang at work 
As you study the doodles over the years, you notice how they have evolved over the years. In the early 2000s, most doodles celebrated familiar holidays such as Valentine's Day, Halloween and Easter. As time has passed, we have seen a dual emergence of specificity and diversity.  Region-specific doodles are those such as the ones for the Vietnamese Moon Festival, Moroccan Independence day and even a doodle for Google India during Holi! Google has managed to encapsulate the global appeal of the brand by being able to celebrate almost everything under the Sun.  From Gandhi's to Bruce Lee's birthday, the World Cup in Qatar, Persian New Year and Father's Day – the doodles continue to fascinate and bring about valuable information to millions around the world.
What is commendable is the fact that Hwang has managed to find the right balance between non-mainstream and conventional holidays/events. Moreover, the doodles are linked to Google search results, which can drive a lot of traffic to unsuspecting sites. In the last three years alone, the Google Doodles have managed to reach new heights by making their doodles more interactive. The finest example would be the one that celebrated the 30th anniversary of Pac Man, where the doodle users to play 255 levels of the game! Many experts are convinced that this would be the world's first ever "playable logo".
Although Google doodles may seem like frivolous child's play in an adult world, they manage to humanize the brand, and challenge its users to explore the horizons of the World Wide Web.
To check out all the doodles, visit www.google.com/doodles. Don't forget to tell us which your favorite doodle is!