Anthology films are here to stay. This one may seem like one but it isn't one. This one's just called X and has 11 filmmakers from different parts of India. The project has been billed as a filmmaker's journey through his past encounters with his 10 ex-girlfriends as he spends one surreal unforgettable night at a film festival after he meets a mysterious girl who intriguingly seems to have something to do with every woman in his life.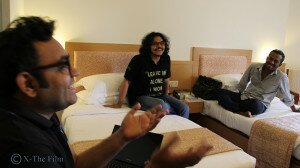 "What started out as just a random idea has blown into this big and brilliant exercise in collaboration of minds and exchange of ideas across genres," says Sudhish who was instrumental in getting the filmmakers together from everywhere – Mumbai, Delhi, Kolkata and Chennai. "In one film we are trying to mix these different textures that have made these directors win audiences from across the globe."
The filmmakers behind this ambitious seem to be a very interesting mix of both indie and mainstream filmmakers from across the country. They are Abhinav Shiv Tiwari (Oass), Anu Menon (London Paris New York), Hemant Gaba (Shuttlecock Boys), Pratim D. Gupta (Paanch Adhyay), Q (Gandu), Raja Sen (film critic), Rajshree Ojha (Aisha), Sandeep Mohan (Love, Wrinkle Free), Sudhish Kamath (Good Night Good Morning), Suparn Verma (Aatma) and Thiagarajan Kumararaja (Aaranya Kaandam). They will write and direct individual segments as writer-director K (Rajat Kapoor) goes back in time as the memories of his ex-girlfriends haunt him over the course of one night.
The filmmakers met in Mumbai last weekend to brainstorm and lock their individual segments after online interactions and exchange of over 300 mails for over six weeks.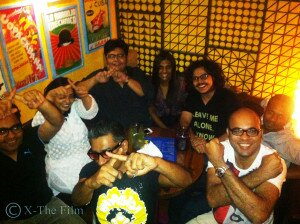 "What's fascinating about the project is that in one film, you have such diverse voices with such varied visions come together… I had to get involved and say: You guys focus on the film and don't worry about anything else, I'll figure out the finances and production," says Shiladitya Bora, Executive Producer on the movie.
The film's Facebook page: